SPTSB
Society for the Preservation of Traditional Southern Barbecue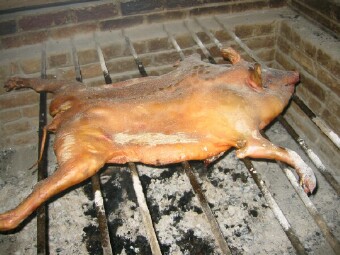 Kit Anderson "Snow as a thermal insulator".
Kit Anderson's WSM Direct Method
SPTSB Email listserv Subscription Information.
Phil Wingo, Buzz Dean BBQ Trip
Ed's Potsticker LTHForum Holiday Party Planning Lunch
Iron Chef BBQ Bill A's Smoked Corned Beef Point
Merrill P's Corned Beef Pictures.
Kurt's Achiote Chicken and Red Rice
Chowhound Bread Tasting 11.09.03
Chowhound Italian Beef Tasting 11.15.03
Dragon King Imperial Banquet 1.20.04
Thai Avenue Dinner of Fire 1.30.04
Thai Aree LTHForum Dinner 8.04.04
Roscoe's House of Chicken & Waffles
Morton's for Wedding Anniversary
Thai Grilled Chicken, Sticky Rice and Two Salads
Chocolate Shoppe Halloween 2004
Tommy's the Original at Beverly and Rampart in Los Angeles
Philippe the Original Restaurant
T-Day Dinner, Florida 11.25.04
LTHForum.com Short Notice A Thon
LTHForoum.com Gulliver's Lunch
Benny's Chop House Martini's MT. Carmel Baptist Skokie Farmers Market